Referral Traffic in Google Analytics
Written by:
Lucas Rollin
Updated: Friday, October 6, 2023
Referral Traffic: definition
In Google Analytics 4, traffic sources are grouped by categories called channel groups.
The Referral channel is part of the default channel group which contains all the following channels :
| | | | |
| --- | --- | --- | --- |
| Direct | Cross-network | Paid Shopping | Paid Social |
| Paid Search | Paid Video | Display | Paid Other |
| Organic Social | Organic Search | Organic Video | Organic Shopping |
| Referral | Email | Affiliates | Audio |
| SMS | Mobile Push Notifications | | |
To sort traffic sources by channel group, Google Analytics uses a database of known websites.
| source | source category |
| --- | --- |
| amazon.com | SOURCE_CATEGORY_SHOPPING |
| google | SOURCE_CATEGORY_SEARCH |
| youtube | SOURCE_CATEGORY_VIDEO |
| facebook.com | SOURCE_CATEGORY_SOCIAL |
Download the websites database used by Google Analytics to sort traffic sources by channel group.
If the traffic source is from a website that is not in this database then the trafic source will be attributed to the Referral channel group.
If the traffic source can't be determined, it will be attributed to the Direct channel group.
If you want to know more about how Google Analytics sorts traffic out by default channel group, you will find here the official documentation.
Referral traffic exclusion
In some cases, you may want to exclude some website to fall into the Referral channel group.
For example, when you use a payment gateway like Stripe or Paypal, your conversions can be attributed to the Referral channel group by mistake because Google Analytics thinks the payment gateway is a referral website.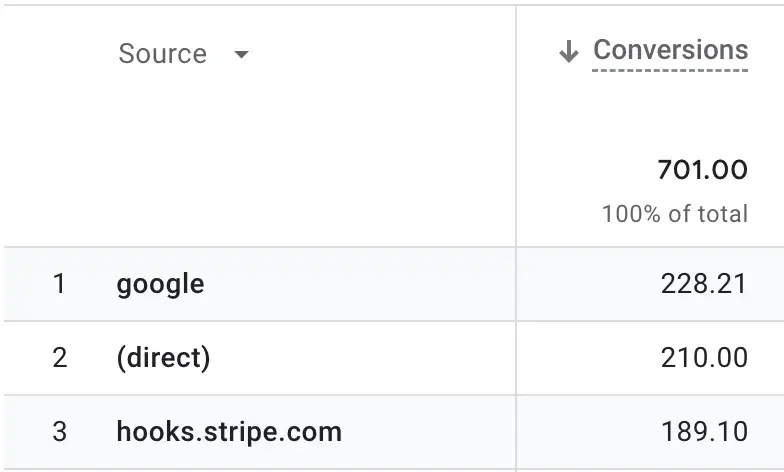 To exclude Referral website from your Google Analytics 4 property, you need to go to Admin > Data stream (then click on your stream) > Configure tag settings > Show more (you may need to scroll down) > List unwanted referrals.
Then, you have to add the domain names of the referral websites you don't want to include into the Referral channel group.

This configuration will add the parameter ignore_referrer to trafic coming from the websites you want to exclude.
Trafic acquisition report in Google Analytics
The default channel groups are used in the Trafic acquisition report and they allow you to take a step back on all traffic sources. You easily determine which channel drives more trafic to your website.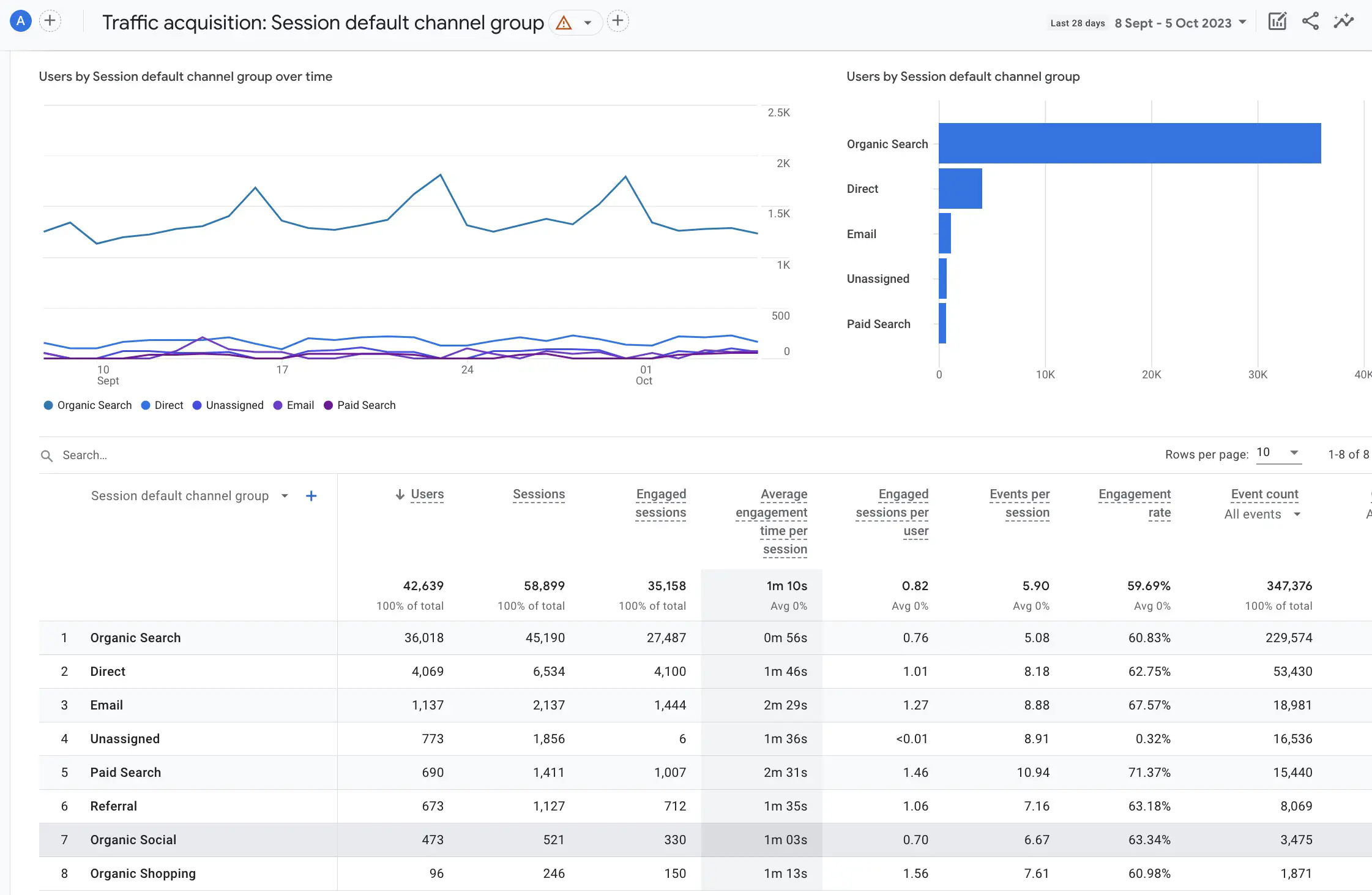 This report uses the default channel group offered by Google Analytics 4 but you can also sort the array by traffic sources.
Go further wih custom channel grouping
If the default channel group classication does not fit your needs, you can create your own channel group that will a lot more meaningful for your business.
To do this, go to Admin > Data Settings > Channel Groups.
Then, click on the button Create new channel group and from here you can edit the default configuration.
For example, you can :
change the name of the channel groups
change the attribution conditions of traffic sources to a specific channel group